Berkshire Hathaway HomeServices Fox & Roach
Branding and promotion for a proprietary suite of digital agent marketing tools
OVERVIEW
When it comes to enterprise technology adoption, creating strong internal buy-in is crucial. Strong branding and strategic positioning create the "special sauce" that drives lasting team support.
When we first met with Berkshire Hathaway HomeServices Fox & Roach, the real estate services arm of the multinational conglomerate headed by Warren Buffett, they were sitting at this exact crossroads — ready to name, launch, and promote a new CRM as a vital sales asset and recruiting and retention tool for their vast network of agents.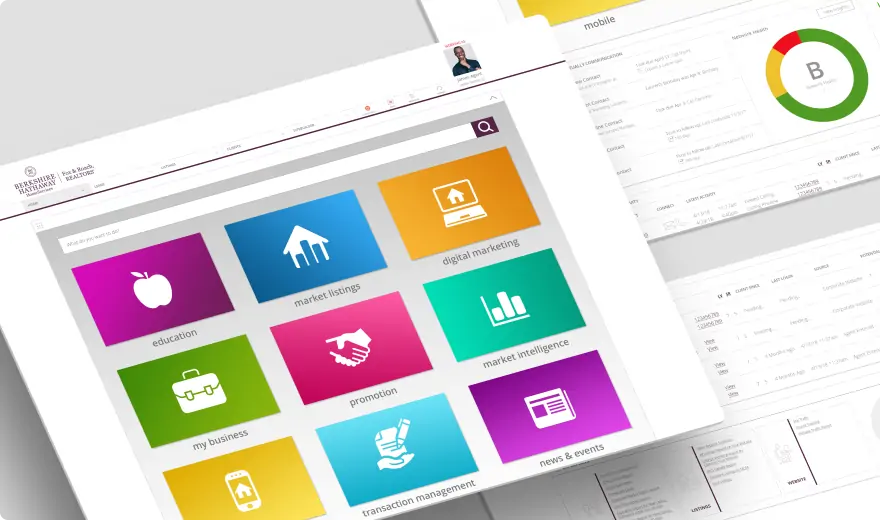 Berkshire Hathaway first needed a new name that hit just the right notes its new CRM tech suite, which supports agents throughout the sales cycle, from identifying prospective homebuyers all the way through to scoring a signed contract. In addition, they required a visual identity and suite of promotional assets to help create buzz, overcome resistance to change, and generate buy-in for both new and existing team members.
Brand Identity
After an internal workshop with key members of our strategy and creative teams, we created the winning solution for the CRM name: The Agent Center for Excellence (ACE), a name that conveys the concepts of top-tier technology, superior results, and a one-stop shop offering end-to-end solutions. It also calls to mind elite images like the most coveted playing card in a deck, the number-one pitcher on a baseball team, or a winning serve in the game of tennis.
Digital Promotion
The client's goal was to encourage awareness and adoption among their 5,000+ existing agents and promote the tool to prospects. The cornerstone of that effort was a promotional video used to grab the attention of potential agents and entice them to learn more about both the platform  and the company itself.
We also created a multimedia campaign focused on highly targeted digital ads and social media posts featuring agent video testimonials. Each ad and post in the promotional series highlighted a key component of the overall platform, working together to convey the appeal, effectiveness, and ease of use of this comprehensive new tool. A suite of other visually striking marketing assets supported their internal and external launch-marketing efforts.
As a whole, these solutions strongly echo the authenticity, durability, professionalism, and innovation for which Berkshire Hathaway HomeServices Fox & Roach is known.
We worked with Berkshire Hathaway HomeServices Fox & Roach on