You Might Not Need a Ground-Up Website Redesign
Whether due to budget contraints, timing, or organizational readiness, sometimes that full website overhaul you want just isn't in the cards. Thankfully, there's an alternative: iterative, impactful improvement to an existing site.
This option is overlooked because the perception is that it's always easier to start from scratch than to clean up an existing mess. But that may not be true. Read this before you embark on your next redesign.
So, Your Website Needs Help
Your website isn't performing the way you want it to. The content is scattered, the menus point visitors every which way, and the day-to-day management has become a burden. On the whole, it's not performing as you know it should. Conversions are down, and everyone knows it's in disarray.
You know that your website should be a streamlined marketing engine, but you are hostage to decisions made years ago about what it should be, how it should look, and how it should be organized.
Your only option is to redesign from the ground up, right? Not necessarily.
Consider every other online service you might use in a day: Gmail, Instagram, Netflix. How often do these services stop everything to completely reimagine their platform from the ground up? The answer is never. Instead, they continually improve and modify to the point where, ultimately, you see a completely new version of the product, but the transition was seamless, and updates and changes were phased in piece by piece.
It's time to stop believing that you have to patiently await your next full redesign before your website can be improved.
Of course, there are situations where a full redesign is necessary. In those scenarios, either the effort involved in repairing an existing site is greater than creating a new one, or other circumstances (re-branding, mergers, etc.) mean that the website must undergo a fundamental, ground-up change. However, we've also helped many of our clients continually improve their websites over the span of many years, prioritizing the changes that matter, and ultimately revamping the entire site over time. This is an option that's often not seriously considered, but should always be on the table.
This is our approach to optimizing an existing website rather than rebuilding it completely:
Planning & Collaboration
In collaboration with your team, we'll build an understanding of the site: which features are relevant, which are not, and what your organizational priorities are. From there, we'll draft a plan to address the most important and impactful elements of the site.
Content Strategy
To maximize the impact of key pages on the site, we will define a content strategy and create content to support the user journeys. Content prescriptions define the structure of the page, SEO requirements, and asset requirements. We use those prescriptions to craft optimized content.
Design Enhancements
Our team will evolve the visual aesthetic of the website without requiring a full tear-down the entire platform.
How Much can I Change the Design without a Full Redesign?
It depends on the setup of your specific site, but often a lot of the design can be changed without a complete redesign.
The theme layer/design layer of your site is generally quite separate from the underlying content and structure, so the design itself can be changed drastically without needing to replatform the site or migrate content. Logo, typography, colors, imagery, spacing, and other aesthetic aspects of the site can be altered without changing the underlying technology.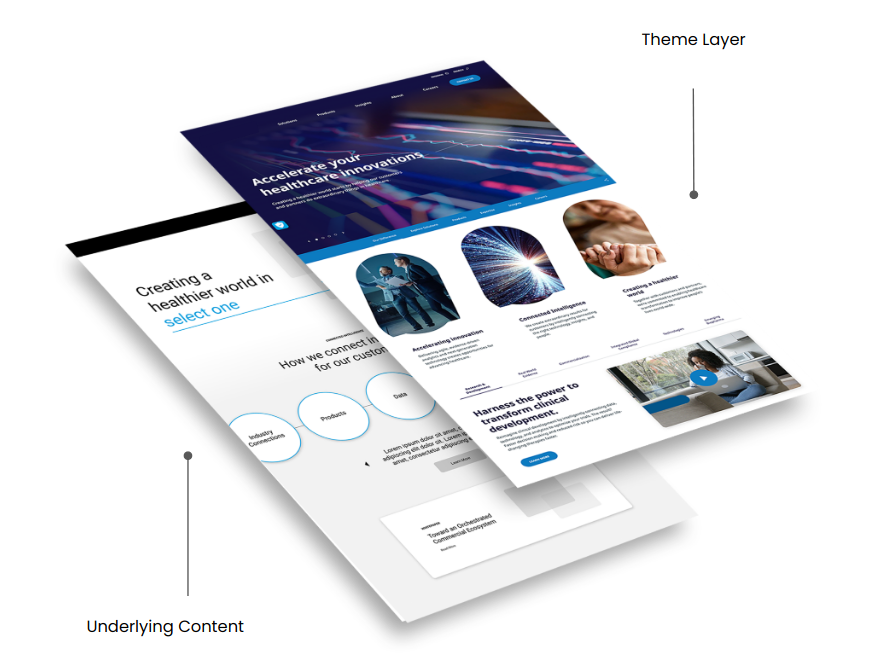 Phased Development and Deployment
New features, design changes, and analytics/tracking enhancements can be planned and implemented consistently month-to-month so you can maintain momentum and stay hyper-focused on actual objectives — rather than stopping everything and waiting on a 6-8 month website redesign.
How do I Start?
You'll have to decide whether you're looking for strategic or tactical help — or a combination of both. In other words: do you have a punch list of items that you just need updated/fixed/changed on the website? Or are you unhappy with the overall performance and need a plan to increase user engagement and conversion?
If you have a punch list
For a punch list of items, our normal process is to confirm that we understand the requests, identify priorities and timing, then schedule the appropriate design or development resources to get them addressed. We communicate a timeline to your team and provide regular status updates and a staging site for you to view changes. Once everything's been through our QA and gets the go-ahead from your team, we depoy the changes live. We repeat that process as many times as necessary to get through all of the items.
If you have top-level goals
Sometimes it's not as simple as "we need to make these specific changes to our site." You might need to find ways to increase search engine visibility, update your visual aesthetic, and drive additional leads through conversion optimization. In these cases, we will build a month-to-month plan that focuses on specific updates, changes, and enhancements we can make to address your top level goals. We also implement analytics & tracking dashboards to ensure that we can see the impact of our changes and maintain focus on the most critical metrics.
If you'd like to learn more, feel free to contact us and we can provide a free assessment and recommendations!