The Google Core Update Roundup: What Experts Are Saying & What You Need to Know
This spring, Google changed the Internet again with updates to their search ranking process — causing many sites to experience a drop in rankings and a need to reassess their content.
Between May 25 and June 9, Google introduced and rolled out the May 2022 edition of their Core Updates. Here, we share updates about what experts are saying about the impact this change is having so far, and what you need to know to navigate its effects.
What Is a Google Core Update?
A Core Update is a change that Google makes to their search results ranking process several times per year, which routinely strikes fear in the hearts of website owners, as it often results in a loss of rankings on search results pages (SERPs) by previously high-performing sites.
Google maintains that these changes in rankings are not a punishment to specific websites, but rather an acknowledgment that other sites are creating better content and rewarding them for their efforts with higher search rankings. In fact, according to Google Search Central, the updates are designed to "increase the overall relevancy of our search results and make them more helpful and useful for everyone." That being said, in order for some websites to do better, others need to do worse.
The Consensus on the Data Findings — What Insiders Are Saying
SEMRush: It's Not That Bad
SEMRush released a thorough report on June 1 — prior to the completion of the May Core Update — with the overall finding that its impact was not as bad as the November 2021 Core Update. Utilizing their SEMrush Sensor, they found that there was slightly more rank volatility experienced on desktop sites than on mobile, but only by a minimal amount, with the top most volatile sector of real estate experiencing an increase of 5.4 on desktop and 5.3 on mobile. Their report also stated that there were no indications that this update targeted specific niches, unlike the infamous Medic Update in 2018, which was so nicknamed because of the drastic negative impact it had on health websites.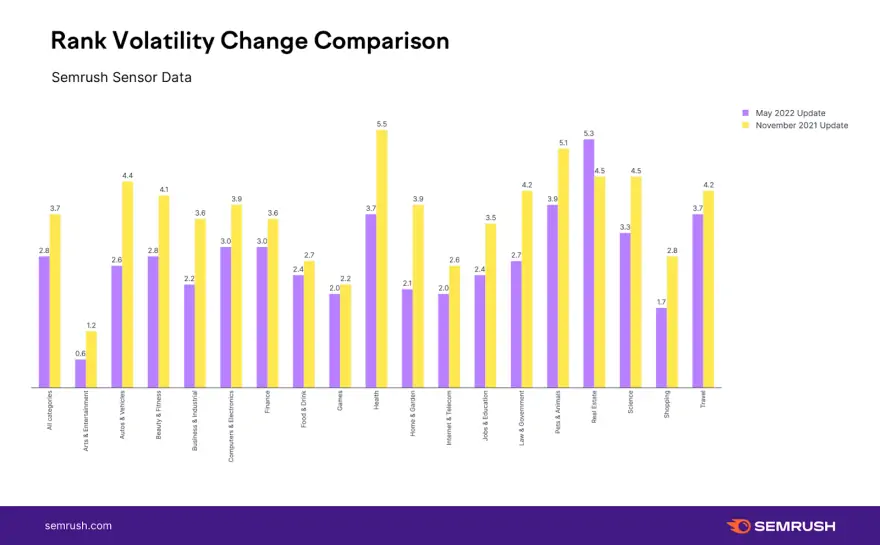 Despite seeing the volatility levels decrease when comparing the November 2021 and May 2022 updates, SEMRush pointed out that the latter had more drastic changes for individual websites. Upon examining the top 100 websites with the biggest gains and losses, they found the following:
In May, update winners gained around 31.4 positions, with an average position of 10.2.
In November, winners gained 33.6 positions.
In May, those most heavily impacted lost around 34.9 positions.
In November, they lost 27.6 positions.
They also examined the top 20 results overall to analyze the previous positions of newly ranking URLs. Here, they found that "over 17% of URLs among the top 20 came from beyond position 20 itself."
Now that Core Updates are taking place multiple times each year, SEMRush also noted that over time, these updates have exhibited an overall decrease in negative impacts. In their September 14, 2021, blog post, they stated that, "[a]s time goes by and Google has applied its new abilities to more sites and pages in all-new ways, the overall impact should, in theory, decrease exponentially."
RankRanger: It's Worse Than the Last
In a May 31 article, also posted in the middle of the Core Update, Search Engine Land compared the SEMRush data findings to that of RankRanger. While SEMRush was less concerned about the update, RankRanger called it "significant," despite the fact that the data didn't show a drastic difference between that and the last Core Update. RankRanger "found that in its data the May 2022 update's average position changes were higher than the November 2021 update," with an average change in position of 3.55 in May 2022 and 3.31 in November 2021, respectively. Another increase, though minor, was in rank volatility for top 3 page results, which rose from 49% in November 2021 to 50% in May 2022.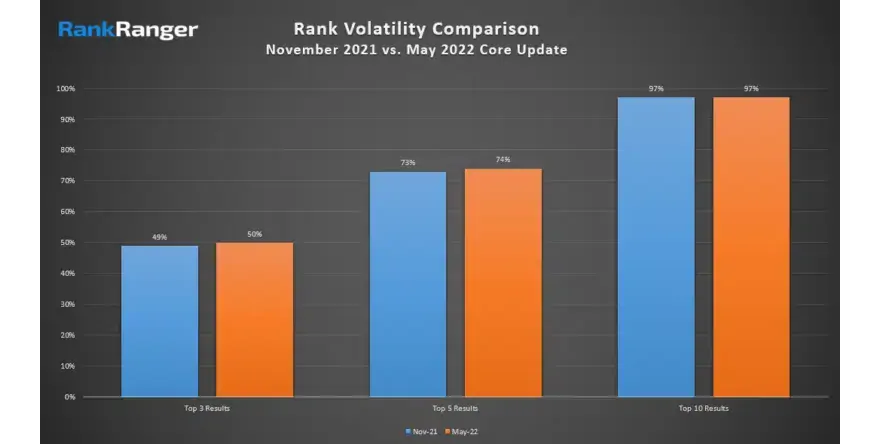 Top Impacted Sites
The types of sites that were most impacted by the Core Updates differed depending on the source. In their article, SEMRush explained that across all updates, the highest volatility was experienced by real estate, healthcare websites, travel, books and literature, and science sites. And this order mostly remained the same for the May 2022 update, except that pets and animals took the place of science. Comparatively, the impacts in rank volatility in top three results in May 2022 were noted by RankRanger as retail with 70% volatility, travel with 52%, finance with 48%, and health with 46%.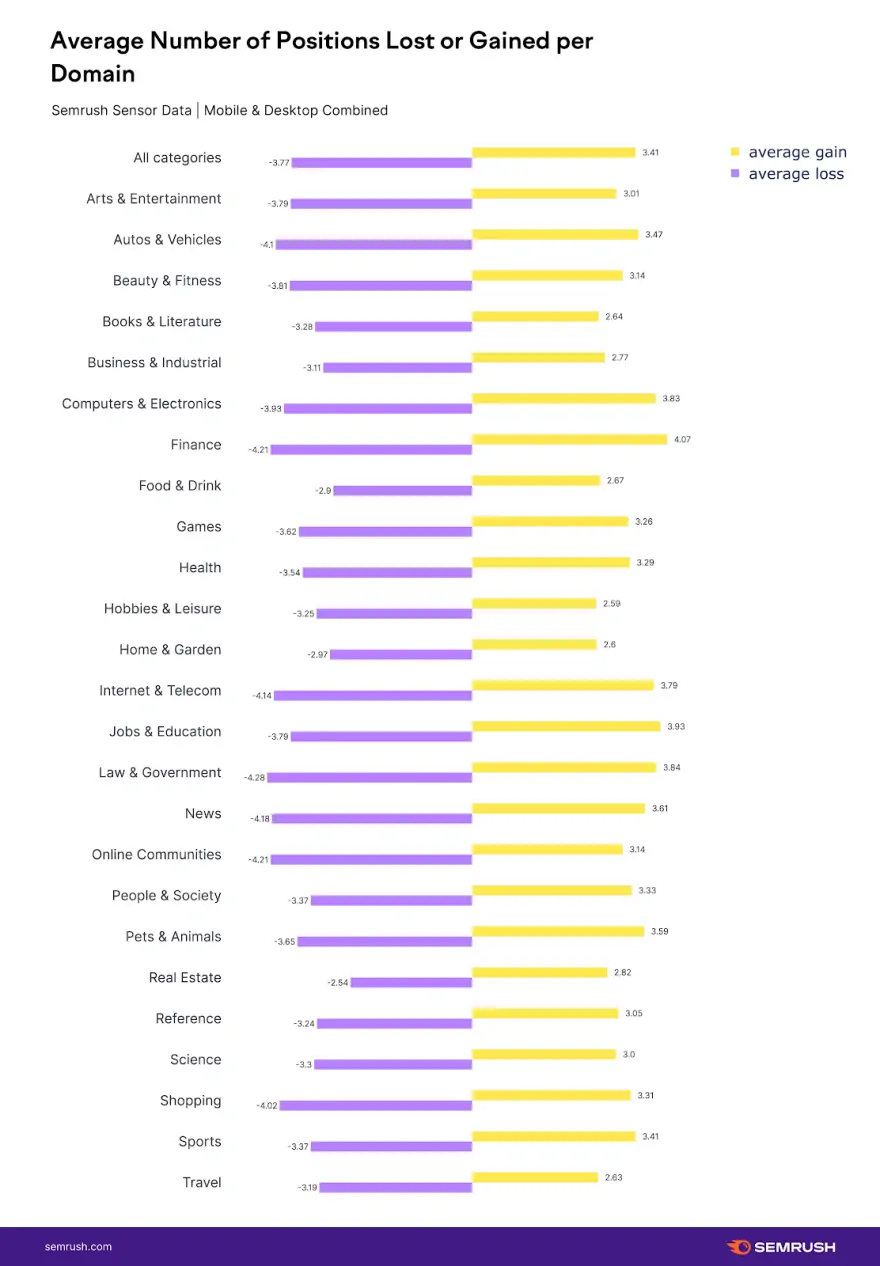 Meanwhile, the Search Engine Land article noted data from SISTRIX for the top U.S. website rank changes from May 25–May 30:
The most wins went to amazon.com, youtube.com, walmart.com, ebay.com, and instagram.com.
The most losses went to britannica.com, wikipedia.com, thefreedictionary.com, vocabulary.com, and nordstrom.com.
In one of the most recent summary articles we found, searchmetrics' blog post cited data from their Searchmetrics Research Cloud looking at SEO data from 38 countries on June 20, after the Core Update rollout was complete. As they explained, "[t]his list is arranged by absolute gain or loss in SEO visibility and only includes domains with change in SEO visibility of more than ten percent." Some of their most notable findings include:
Their top winners were spaces that allow users to post their own content, such as instagram.com, ebay.com, tiktok.com, youtube.com, and wikis.
Their top losers included theguardian.com, reddit.com, nordstrom.com, screenrant.com, gettyimages.com, and many health domains.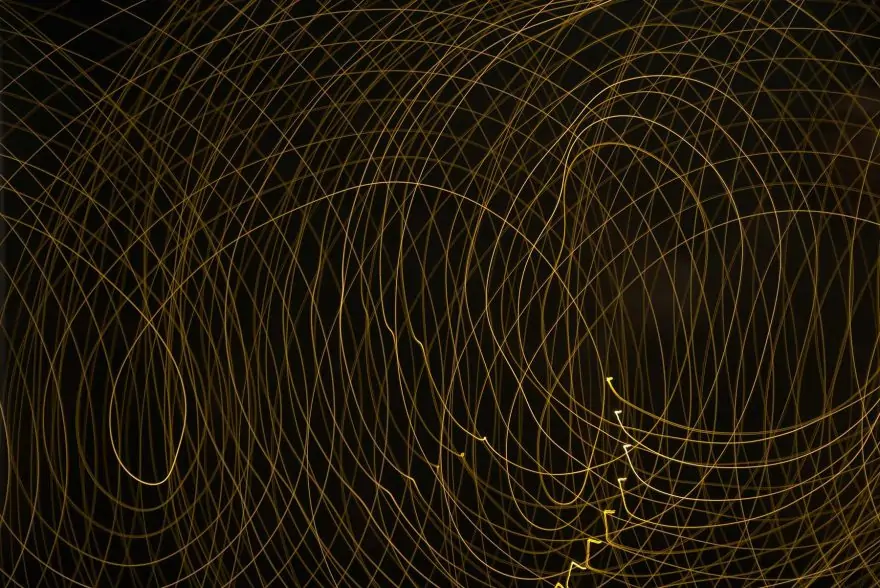 A Hit to AI-Generated Content?
Although they did not name any specifically impacted websites, Search Engine Journal's June 9th article noted that some websites that used content written with artificial intelligence had suffered rankings losses as a result of the latest Core Update. However, they went on to explain that Google does not think all AI-generated content is bad — it only violates their guidelines when it's used to intentionally manipulate search results. In fact, the journal conducted an experiment that showed that AI-generated content generally performs best when used to supplement, rather than replace, content written by humans.
Considering the emphasis Google places on human-written content, then with this update, as with all core updates, you should continue to focus on your E-A-T.
What Is E-A-T, and Why Is It Valuable in Navigating Core Updates?
Ultimately, all of these resources point out what Google does, which is to vet your content with an emphasis on the concept of "E-A-T" (Expertise, Authoritativeness, and Trustworthiness). This acronym was first defined in Google's 2015 Search Quality Evaluator Guidelines, which guides their giant team of human Search Quality Raters on how to rate the page quality for meeting the needs of a user's search questions. The E-A-T concept is a slightly scaled-back version of Google's stringent YMYL (Your Money or Your Life) content categorization, which covers information that is vital to users' well-being and livelihood. According to a blog post by SEMrush, this "is the type of information that, if presented inaccurately, untruthfully, or deceptively, could directly impact the reader's happiness, health, safety, or financial stability." These topics include news and current events, government and law topics, financial advice, shopping information, medical advice, and "[i]nformation on people of a particular ethnicity, race, religion, nationality, sexuality, etc."
To meet E-A-T guidelines, SEMrush asserted that websites should:
Demonstrate expertise, including with relevant life experience
Be a recognized as an authority on the subject
Exemplify trustworthiness to "provide honest, true information that is accurate"
Moz's blog post on E-A-T explained that websites need to provide great content that "exceeds" the needs of users' searches, and they should break up thorough content with relevant videos or images. The websites can demonstrate authority through general SEO best practices, such as incorporating backlinks from relevant websites, achieving a high Majestic trust ratio score, and sharing extensively across social media posts. To meet the need of trustworthiness, websites need to address negative reviews, have a clear way to contact the website owner, have a physical location, include a Terms of Business page, always use a secure domain with the https protocol, and display an author biography.
While there are many guides out there that explain how to improve your website's E-A-T, SEO Round Table put together a comprehensive list of questions that you should ask yourself to assess your content, such as:
Does the content provide original information, reporting, research, or analysis?
Does the content present information in a way that makes you want to trust it, such as clear sourcing, evidence of the expertise involved, background about the author or the site that publishes it, such as through links to an author page or a site's About page?
Was the content produced well, or does it appear sloppy or hastily produced?
Does the content provide substantial value when compared to other pages in search results?
How Eastern Standard Can Help
Ultimately, as a website owner, you should not panic about the May 2022 Google Core Update — or other updates, in general, for that matter. If your rankings have changed, you'll need to take a close look at your content and make changes to mitigate the negative effects of this update and prepare for the next one.
While SEMRush found that Core Updates have less of a negative impact over time, they also maintained that "it makes the need to track the full roll-out of an update and prepare your site for future updates all the more necessary."
At Eastern Standard, we offer an array of SEO services that can help make your E-A-T stronger, such as search pattern and keyword analyses to identify the search phrases you should be using, competitor analyses, assistance with content strategy, and a focus on the holistic user experience. If you need help in any of these areas, reach out to start a conversation today.