The Tall and the Short of Real Estate Websites: Portfolios vs. Microsites
Over the years, we've worked with a variety of large-scale commercial and residential real estate development, management, and architectural firms, all of which present an interesting challenge when it comes to website design: What is the best way to compile, present, and display myriad different properties offered under one online umbrella?
The answer depends on the results the client is trying to achieve, but a combination of a comprehensive portfolio site and individual microsites can often work together to great effect.
In some cases, we've found that clients have an existing array of disconnected individual online property pages that we have amassed into a cohesive portfolio tied together in both look and feel through shared branding.
If done right, portfolio sites are more user-focused, offering visitors the opportunity to explore a wide variety of properties at once.
Portfolio sites allow clients to group and filter properties based on certain characteristics, including
geographic location,
price point,
or other search criteria,
and they also provide a "big picture" look at a company's overall offerings and corporate details while providing a cohesive visual aesthetic.
In the case of the portfolio site we created for PMC Property Group, we developed a tool that displays real-time updates on unit availability that comes through a rent management portal, as well as a map and a "find near me" function that is particularly useful for pedestrians on mobile. Standardization of the information even allowed us to create a feed that sends listing data to the major apartment-rental sites like rent.com.
On the other hand, microsites are ideal for raising the brand profile of an individual signature property and making a big impact when clients want to highlight an important new property in the construction or lease-up stage.
Microsites can serve as an extension to portfolio sites, allowing visitors to drill down much further into the details of a premier property and experience the personality of its own brand.
Heavily focused on visuals, these sites offer an immersive user experience and generate excitement about living at specific properties by featuring extensive imagery including
lifestyle photographs,
unit details,
building amenities,
floorplans,
and nearby attractions.
They can utilize responsive design for multi-device accessibility and provide a user-friendly tool for requesting more information, contacting a leasing agent, or scheduling a property tour. The key is creating a long-term strategy that allows for the cloning and modification of unique but consistently branded microsites for other signature properties down the road.
When real estate portfolio sites and microsites are used in tandem, it's important to highlight the relationship between any related pages. For example, PMC's premier Philadelphia-based property 1900 Arch Street has both a microsite and a listing on their portfolio site. The content on each is similar, but not redundant. On the microsite, there's a fairly discreet link back to the portfolio site. On the latter, there's a very prominent link for more information on the microsite.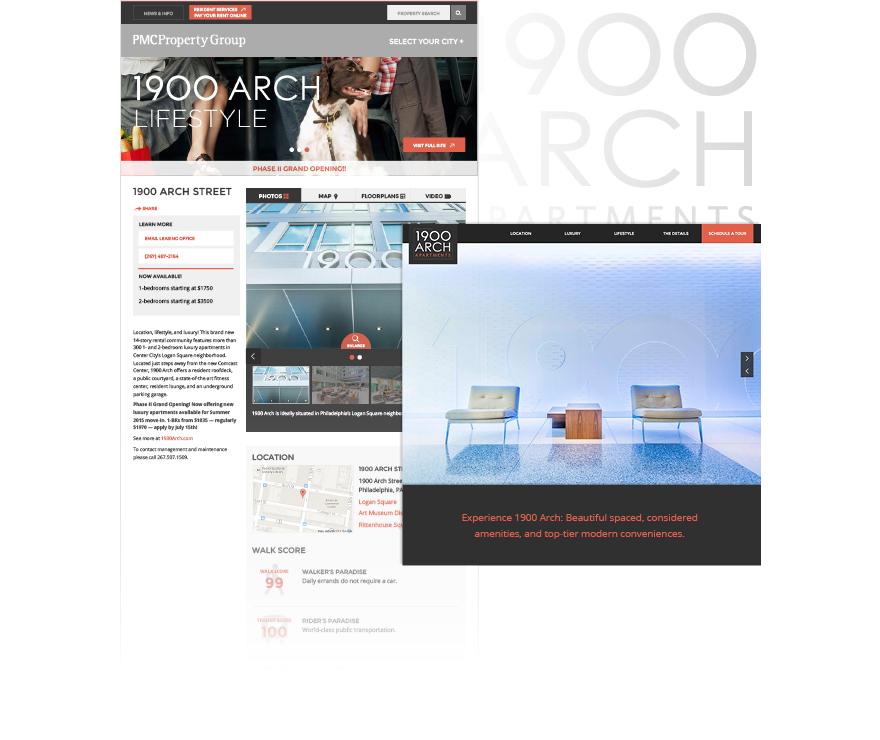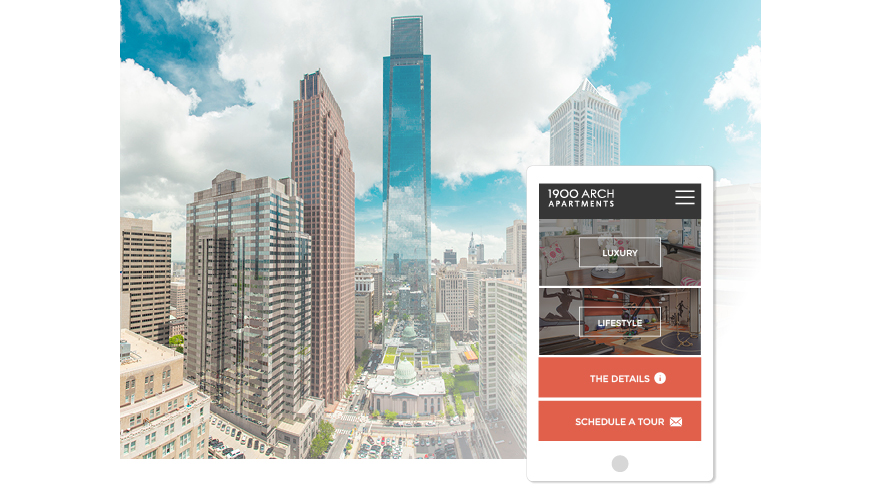 These two means of experiencing the content about a property target prospective tenants at different stages of their search. The portfolio sites give users the tools they need to figure out their options, while avoiding information or branding overload. The microsites serve as a next step for users who are contemplating specific properties, letting them better experience the property's personality and gain more information to help with making their final decision.
Strategically embedding references and cross links between sites in this manner helps clients direct users seamlessly to the appropriate destination based on their needs and intentions — a win-win for all.